Haven't you had enough with getting nothing in MLM?  Like I have?  If you are, I feel you, my friend.  Spending so much of your time everyday with things like social media, trying to master Facebook PPC, Myspace, Twitter, getting slapped on Google Adword, and whatever it is that you're doing that's generating like, $10.00 a month or none at all.
What if I can show you how to actually get things done and stop beating your head against the wall?
Wouldn't it be cool to have unlimited training available 24-7 worth $1,000′s of dollars for more than $500?  In fact…if that sounds like a lot to you, no need to worry…I can show you how to build on a budget!  If you're on a budget, you can just upgrade later on; the more tools you buy for your business, the more you're investing for yourself.
What if you're getting little to no traffic and you want to get noticed?  Generate tons of leads AND as importantly, gain conversions?  I can almost bet you are.
You get to not so much market your company or opportunity, but yourself!
If you are spending more than 5 hours a day doing online MLM, then this will be the perfect solution for you!
Still WANT to make money online while work less for more?  Here's where that can be revealed to you, every Wednesday:
9PM Eastern (GMT-5)
8PM Central
7PM Mountain
6PM Pacific
If you live outside the United States, here's a time converter, since I know many of us internet marketers live in different parts of the world
http://www.timeanddate.com/worldclock/converter.html
So, you sure you still want to learn internet marketing?  Don't say I didn't warn you
  Enjoy!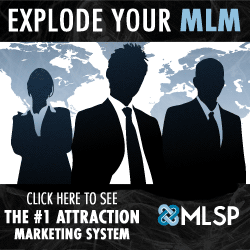 See you on Wednesday at 9pm EST!
On The Road To Your Success,
Derek Smith